MEET THE COACHES
THE FORCES BEHIND THE STORM
In order for a hurricane to become the most powerful it must be very organized and have a well distinguished eye or center. At the center of the Hinesville Hurricanes are the coaches and staff who provide the stability necessary for this team to operate effectively. At the very center is James E. Sharp, Jr. and his team of coaches. They are as follows: Michael "Ice" Jones as Offensive Coordinator; James E. Sharp, Defensive Coordinator . Staff members Videographer and Coaches Aide; Darlene Jones, and Karen Horton, Support Staff; Melissa Sharp,Jason Sharp, Statisticians; Margrette Sharp, Team Photographer; Nikki Smith, Trainer;Jeremy McKnight, Chain Crew Leader; Matthew McKnight, Announcer and Brandon Sharp, Water Boy.
James E. Sharp, Jr. is from Tarboro, North Carolina. He and his childhood sweetheart, Mary Jo (Mayo) Sharp have been married for over 31 years and have four children and one grandson. Coach Sharp was assigned to Fort Stewart Georgia in 1989 and in 1996 retired to the Hinesville area after serving 20 years in the United States Army. He began volunteering with the Fort Stewart Youth Services in 1990 and in 1996 was named Youth Services Coach of the Year. He met Lamar Hall in 1999 owner and President of the Hurricanes and began coaching the Hinesville Hurricanes. In 2004 Mr. Hall decided to leave the Hurricanes and Coach Sharp stepped up to make sure the city of Hinesville would continue to be home to the Hurricanes. Coach Sharp's ability to encourage players to succeed both on and off the field is one of his finest qualities.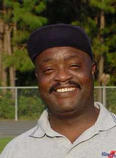 Michael "Ice" Jones, who is from Kenansville N.C and graduated from James Kenan High School has participated in sports all of his life. After serving eight years in the US Army he settled in Hinesville. He is married to the beautiful Darlene Jones-Howell formerly of Winter Haven, FL and they have five children and one grandson. Coach Ice volunteered for ten years at the Fort Stewart Youth Services and in 1997 was selected as the Youth Services Coach of the Year. He joined the coaching staff of the Hinesville Hurricanes in 2004 and is the team's Offensive Coordinator. Coach Ice's ability to help players realize their potential as an athlete is just one of his many attributes to the team.